Programmazione
5
APR
2018
Arthmony - Europe Tour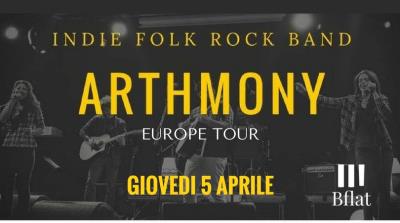 ARTHMONY is an Indie Folk Music band that was founded in 2013 in Brussels by Deborah Vilardi (vocals, base guitar, percussion), Donata Vilardi (vocals, guitar, piano) and Emanuel "EMIV" Vilardi (vocals, guitar, keyboard, percussion). Following a concert in Brussels, Andrea Corda (drums, percussion, guitar) also joined the line-up.
What makes ARTHMONY unique is that there is no leader; there is no soloist or frontman.
The members are very versatile depending on the song or the interpretation they want to apply to a song. Their compositions incorporate vocal solos or multiple voices, a cappella or with three guitars, keyboards with guitar and percussion, percussion solos and many more combinations besides.
This leads to the creation of different colours that blend harmoniously
INGRESSO € 10
3479389791
3388530590 WhatsApp
Ingresso € 10,00