Programmazione
21
APR
2023
EVA SCHUBERT QUINTET ***Special Event***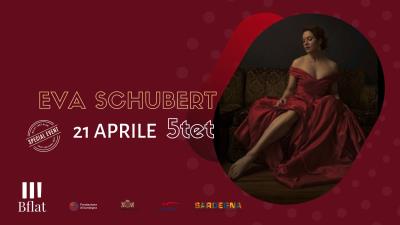 Jazz vocalist and songwriter Eva Schubert is a fresh new voice, whose sound blends
seamlessly with the classic style of jazz greats like Helen Mirrell, Peggy Lee, and
Nat King Cole. A native of Vancouver, Canada, she follows a distinguished line of
female jazz vocalists like Diana Krall coming from Canada's west coast.
Her debut album, Songs for a Ladies'Man, is a mix of toe-tapping, horn
laced songs with clever, mischievous lyrics. She followed this up with
Borderless Sky, an album which included strong jazz sounds, as well
as some songs that stepped outside of jazz into some folk influenced
style. With her 2019 EP Hot Damn Romance, Schubert returned to her
sultry jazz roots, with sizzling trumpet and bass grooves driving songs
that defy the listener to sit still.
Her 4th album, The Feel of Your Love, is a sultry, sometimes hypnotic
collection of songs that effortlessly shift the colour of your mood.
Beautiful piano stylings, guitar riffs and saxophone grooves mix
classic jazz sounds with a distinctly modern sonic palette. Her
sound has been compared to the intimate, seductive style of Julie
London and Sade.
Schubert's classic jazz sound has gained a following in
many countries, leading to collaborations with musicians as
far afield as Italy and Finland. Her performances include
her own contributions to jazz, as well as covers of the jazz
standards sung by icons like Ella Fitzgerald and Billie
Holiday who continue to inspire her work. Her lyrics
betray a strong poetic sensibility, which informs her
carefully crafted verses. As a performer, she is adept at
creating shows to suit any occasion and is at home with a full
ensemble or a simple accompaniment.

Ingresso € 20,00